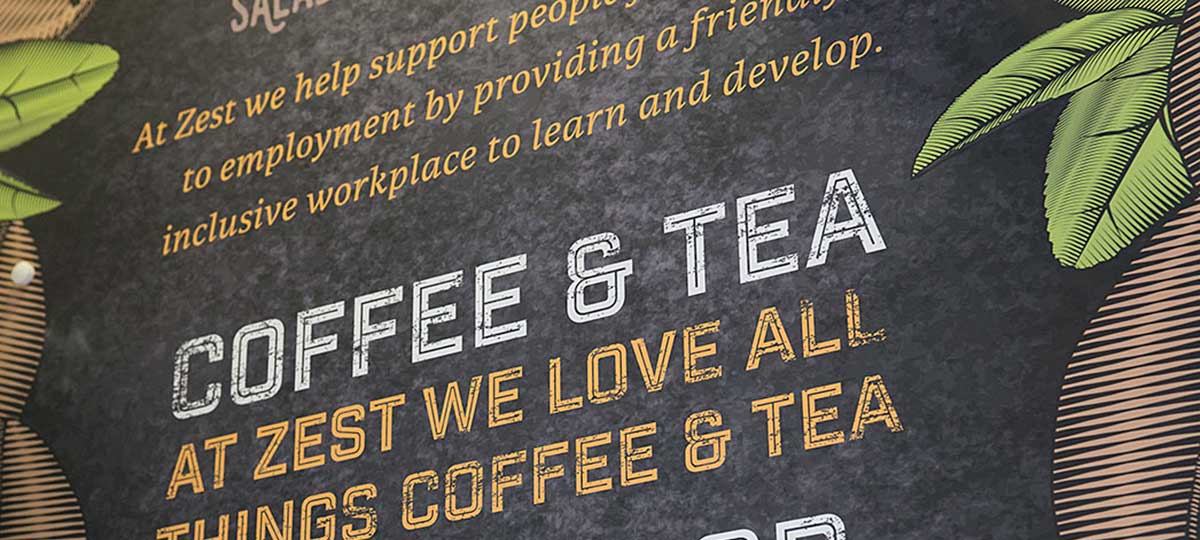 Drinks Menu
"New Year, New House Espresso!
We're changing things up and saying goodbye to Columbia Excelso and hello to TEAM!
Fittingly, this Brazilian and Columbian blend was created by Thomsons in March 2020 and was originally dedicated to the wonderful NHS staff working throughout the pandemic, with the roaster donating thousands of pounds from its sale to the NHS in 2020.
Now Thomsons have decided to add it to their permanent range and we love it. Quite similar to our old Columbia, this has notes of dark chocolate, almond and orange and is the perfect everyday coffee however you like to drink it! " Liv, Zest.
COFFEEs
Espresso £2.35 – A Wee Cup of Excellence!
Macchiato £2.45 – Espresso With a Drop of Textured Milk
Filter £2.25 – Light-Bodied Coffee, Best Enjoyed Without Milk
Americano £2.85 – Hot Water Topped with Espresso. 
Latte £3.25 – Espresso Topped with Steamed Milk
Flat White £3.00 – 50:50 Espresso : Textured Milk. A Shorter, More Intense Drink with Slightly Cooler Milk to Increase Sweetness.
Cappuccino £3.25- 1/3 Espresso, 1/3 Steamed Milk, 1/3 Foam.
Mocha £3.60 – Espresso & Chocolate with Textured Milk 
V60 £3.85 – Drip coffee using a V shaped filter
SYRUPS 35p
Caramel/ Vanilla/ Hazelnut/ Chai
Alternative Milks  – Soy & oat (no surcharge)
Decaf 30p
Our Decaf is Speciality Grade Coffee, Ground Fresh from Beans to Order… So Good you will not Notice it is Decaf! It Takes an Extra 10 Hours to Process the Green Coffee for a Good Quality Decaf. This makes it More Expensive for us to buy, so we have to Charge a little extra for it.
Guest Espresso – Add 30p
A chance to try a truly unique and rare coffee selected by us to be an Experience. Our Guest Espresso is rotated regularly allowing you to try the more Expensive Coffees of the World.
Your Barista will Advise on the Best Combination for This Espresso. Can be Ordered as a Straight Espresso or as a Milk-Based Drink.
other Hot Drinks and iced coffees
Hot Chocolate £3.60 – High Quality Cocoa and Steamed Milk
Deluxe Hot Chocolate £3.95 – Cocoa, Marshmallows and Whipped Cream
Ginger Chai Latte £3.60 – A Hot Blend of Chai Syrup with Exotic Spices and Steamed Milk Topped with Cinnamon. A Real Hug in a Mug.
London Fog £3.60 – Classic Earl Grey with Blue Flowers, a Dash of Vanilla and Steamed Milk. Please allow 7-8 Minutes Preparation Time.
loose Leaf Tea
High Quality Loose Leaf Blends served in an 18oz Pot which is 1-2 Cups per Person.
Scottish Breakfast Tea £3.00- A Blend of Assam & Ceylon Teas, Giving You a Bold, Malty, Deep Flavour
Ginger Chai £3.00 – A Hot Blend of Black Tea & Exotic Spices. This Fiery, Sweet, Spicy Aromatic Tea is Sure to Warm you to the Very Core.
Gunpowder Green Tea £3.00- Fairly Full Flavoured Green Tea, with Hints of Smoke & Pepper. This is a Perfect Base to Add Peppermint or a Fruit Infusion Too!
caffeine Free Tea – £3.00
Ceylon Black Tea – High Quality Decaf Loose Leaf Tea from Sri Lanka
Rooibos (Red Bush Tea) – Renowned for it's High Vitamin C and Anti-Oxidant Levels. Works Great with Added Fruit Infusions!
Ginger Herbal Infusion – A Blend of Ginger, Lemongrass and a Little Liquorice! Very High Anti-Oxidant & Vitamin C. This is Our Go To Tea when you Need a Pick Me Up!
Peppermint – Fresh & Zingy Dried Leaves. Rubbed Peppermint is a Well Known Digestive Aid, with Natural Sweet Fresh Flavours.
Chamomile – Naturally Sweet Floral Flavours. Famous for Sleep Inducing Properties.
Fruit Infusions – Cherry & Raspberry.